April's SHELF OF DOOM!
I was struggling to come up with a post for today, mostly b/c I haven't really finished any books recently I haven't already reviewed.  And man, I've really been going through a lot of books, many of which I haven't been able to finish.  It feels like I'm in a phase right now where my imagination is being pickier than usual.  I don't fault the books themselves for my inability to keep with them – in fact, for most of them it's really my impatience to be hooked.  My plate is so jammed packed with books to read I don't necessarily put forth the effort to stick them out, and instead will put it aside to try another (which is SO not my style…alas, this blog has forced me to alter that). Here are a few examples of books I've read at least 1/4 of and had to put aside:
Synopsis: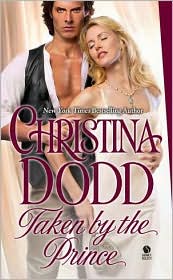 Only Victoria knows that Saber Lawrence is a renegade prince plotting to seize control of his country. But when Saber kidnaps Victoria to ensure her silence and vanquish her reserve, he finds that the proper English governess is not so easily seduced, unless Saber's willing to surrender something of his own-his heart.
This is my first experience with Christina Dodd.  I enjoyed her style of writing – it was easy going yet meaningful, and her characters were interesting.  What didn't do it for me was the premise.  The kidnapping plot felt predictable to me, and I wasn't invested enough to see what was going to make this one different.  I haven't completely tossed this one aside, though.  Someday I'm hoping to pick it up and give it another go
What I'd recommend instead: Teresa Mederios's The Bride and the Beast.  My mind inadvertently kept drawing similarities between the two, even though, at heart, they're two completely different stories.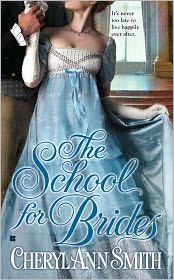 Synopsis: Miss Eva Black spent her life concealing her mother's past as a courtesan. Now a spinster, her beauty hidden away under a dour disguise, Eva spends her days schooling courtesans to be suitable wives. But one vengeful duke does not appreciate Eva turning his mistress into a lady. He plans to seduce Eva into becoming what she detests: a courtesan. But he doesn't expect her to be a woman of such beauty and so many secrets.
This is Cheryl Ann Smith's debut novel, and I think she starts out fairly strong.  But the pace and the character development fell flat after the initial exposition.  The hero is so chauvinist it blows my mind, and the heroine's disguise is laughable and unbelievable.  Regardless, I've caught myself wondering about the characters and how they go from loathing each other (despite still sleeping together) to loving one another.  I haven't necessarily given up hope with this one – it's just going to take a good amount of patience.
Synopsis: A glittering French aristocrat is on the run, disguised as a British governess. England's top spy has a score to settle with her family. But as they're drawn inexorably into the intrigue and madness of Revolutionary Paris, they gamble on a love to which neither of them will admit.
I'm ashamed to admit I couldn't get into this book.  It's a RITA finalist for smut's sake!  I think this is one of those books that I have to pick up at another time in my life, a time when I'll really be able to pour myself into it and soak it all in.  I wasn't in a good mental place to do that at the time.  I've heard nothing but amazing things about this series, so I was really ashamed of myself…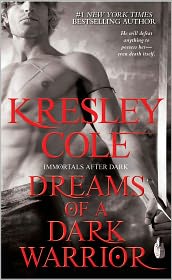 Synopsis: Murdered before he could wed Regin the Radiant, warlord Aidan the Fierce seeks his beloved through eternity, reborn again and again into new identities, yet with no memory of his past lives.  When Regin encounters Declan Chase, a brutal Celtic soldier, she recognizes her proud warlord reincarnated. But Declan takes her captive, intending retribution against all immortals—unaware that he belongs to their world. Yet every reincarnation comes with a price, for Aidan is doomed to die when he remembers his past. To save herself from Declan's torments, will Regin rekindle memories of the passion they once shared—even if it means once again losing the only man she could ever love?
The only reason I couldn't get into this book was because this was the first of Kresley Cole's Immortals After Dark novel I picked up.  Now, that's not to say I couldn't necessarily follow what was going on.  I could.  But I wasn't impressed.  I know, I know.  So smack me.  Perhaps on a different day when I needed something dark and broody and fantastical I'll pick this up again and give it another go.
Synopsis: Kev Merripen has longed for the beautiful, well-bred Winnifred Hathaway ever since her family rescued him from the brink of death when he was just a boy. But this handsome Gypsy is a man of mysterious origins—and he fears that the darkness of his past could crush delicate, luminous Win. So Kev refuses to submit to temptation…and before long Win is torn from him by a devastating twist of fate. Then, Win returns to England…only to find that Kev has hardened into a man who will deny love at all costs. Meantime, an attractive, seductive suitor has set his sights on Win. It's now or never for Kev to make his move. But first, he must confront a dangerous secret about his destiny—or risk losing the only woman he has lived for…
I just could NOT get into this book. Kev's back and forth battle with himself over his feelings for Win get old really, really fast.  He's hot, he's cold. He's hot, he's angry, he's cold. I literally skimmed through this book to get to the bones of the story – I wanted to know if and how these two finally get together.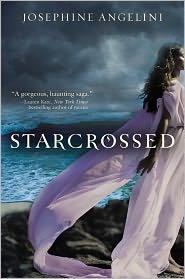 Synopsis: Helen Hamilton has spent her entire sixteen years trying to hide how different she is—no easy task on an island as small and sheltered as Nantucket. And it's getting harder. Nightmares of a desperate desert journey have Helen waking parched, only to find her sheets damaged by dirt and dust. At school she's haunted by hallucinations of three women weeping tears of blood . . . and when Helen first crosses paths with Lucas Delos, she has no way of knowing they're destined to play the leading roles in a tragedy the Fates insist on repeating throughout history.
As Helen unlocks the secrets of her ancestry, she realizes that some myths are more than just legend. But even demigod powers might not be enough to defy the forces that are both drawing her and Lucas together—and trying to tear them apart.
One word to describe this book: pacing. Nothing interesting really happens until at least page 50. I thought this had a lot of promise. I had just finished The Goddess Test and was looking for something of a similar dark and haunting mood.  Starcrossed failed to snare me.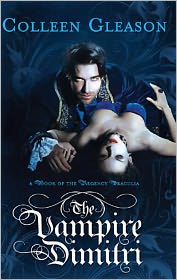 Synopsis: Dimitri, also known as the Earl of Corvindale, should be delighted that the headstrong Maia Woodmore is getting married. His mortal ward and houseguest has annoyed—and bewitched—the Dracule nobleman too long, and denying his animal cravings grows more excruciating by the day. Miss Woodmore's family has a rather…complicated history with the immortals and she herself possesses a keen sensibility far beyond mere women's intuition. Marriage will give her safety, respectability and everything else a proper young lady could wish for. Everything, that is, except passion. In the looming battle between Dracule factions, all pretenses will shatter as Maia and Dimitri come together in an unholy union of danger, desperation and fiercest desire.
I couldn't stick with this one, either.  Other bloggers have very much enjoyed this series, but to me it felt a bit stale and predictable.  This is the 2nd in the series, and though all three in the series are closely related, you don't necessarily need to read one to follow another.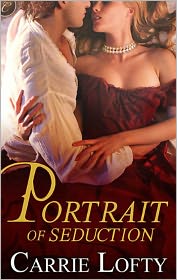 Synopsis: Greta Zwieg forges masterpieces. With her copies on their walls and the original paintings safely hidden, the noble families of Austria can rest assured their treasures will survive Napoleon' s advances. But now Greta' s uncle is changing the rules, selling her counterfeits as originals. Greta abhors the deceit. Anxious for her family' s safety in a perilous time, she is nevertheless determined to put things right. Oliver Doerger is living a lie of his own. Acting as valet for his aristocratic half brother, Oliver thwarts an attempt on Greta' s life and is overwhelmed by the forbidden passion that flares between them. Although he' s not truly a servant, he is a bastard and a spy—certainly no match for a woman of such exquisite quality. Though both fear discovery, they cannot resist each other. When the truth comes out, and the city falls into chaos, Greta and Oliver will be forced to choose: love or duty?
I was excited to get my hands on this one.  I thought the premise seemed fun and fresh.  What turned me off was the instant attraction between the hero & heroine.  It was too intense to fast for me, and I had a hard time believing it.