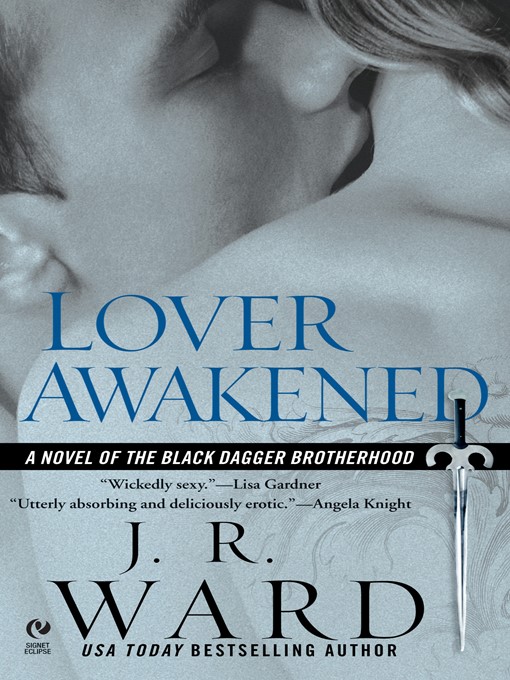 Title: Lover Awakened (The Black Dagger Brotherhood Book 3)
Author: J.R. Ward
Redonk Nutshell: Scariest vampire of a warrior clan finds love in an aristocrat
Official Synopsis: In the shadows of the night in Caldwell, New York, there's a deadly war raging between vampires and their slayers. And there exists a secret band of brothers like no other – six vampire warriors, defenders of their race. Of these, Zsadist is the most terrifying member of the Black Dagger Brotherhood. A former blood slave, the vampire Zsadist still bears the scars from a past filled with suffering and humiliation. Renowned for his unquenchable fury and sinister deeds, he is a savage feared by humans and vampires alike. Anger is his only companion, and terror is his only passion—until he rescues a beautiful aristocrat from the evil Lessening Society. Bella is instantly entranced by the seething power Zsadist possesses. But even as their desire for one another begins to overtake them both, Zsadist's thirst for vengeance against Bella's tormentors drives him to the brink of madness. Now, Bella must help her lover overcome the wounds of his tortured past, and find a future with her…
I read J.R. Ward's first installation in her epically popular Black Dagger Brotherhood series several months ago.  I liked it, but I wasn't really into it all that much.  These books are urban with a splash of paranormal that includes some serious vampire lore.  I liked the vampire world she created, but it didn't really blow me away.  That said, when I was presented with the third in the series, Lover Awakened, I thought eh, why not give another a go?
At the risk of ire from fellow romance bloggers, I have to say that I really can't get into this series.  I can't get over the LOL-cat like pronunciation of names and terms (Rhage,  Phury, Rehvenge…these are character's names, BTW).  I've also found that for me personally, I have issues getting into series that deal with the same circle of characters, if only because they tend to fall into a repetitive cycle.  Another prime example?  The Dark Hunter series, by Sherrilyn Kenyon (whom I love).  It's almost always the same story arc: boy meets girl; boy and girl are attracted by shouldn't be; fight attraction; battle some sort of epic villain; end up happy together  It's predictable.
That said, if you're really into the characters of the series then you can easily get over the predictable nature.  Personally, I can't get invested in these guys.  It's nothing against Ward or the Brotherhood.  It's just not my cup o'tea. I enjoyed following Zsadist's healing process from his violent past.  But that was really about it for me.
What I loved about this book: the vampire world and hierarchy Ward creates are top-notch
What I didn't like:Â  predictable
Rating: C
Romance: 2/5Â Â Â Â Â Â Â Â Â Â Â Â Â  Raunch: 3/5