After hitting up a library book sale recently, I got my hands on a vintage Anne Stuart book I'd never read before.  And lemme tell you, I was REALLY excited about it.
I first read Anne Stuart this past fall when Barnes & Noble kept insisting I check out her Rohan Series.  The covers are beautiful and kept catching my eye, but I continued to pass over them until finally one day I caved.  I started with the first, Ruthless.  And baby was I hooked.
What I love about Anne Stuart's books:
They're dark – her heroes are some seriously dark rakes.  We're talking conniving, unforgiving, and relentless.  But the best part?  Yeah, they're "touched" as my imaginary southern grandma would say, but they're redeemable.  And human.  Stuart manages to bring out the multi-dimensional facets in their personalities that really make them shine
They're very sexual – combining the dark and brooding rake with an unusual heroine, and an out-of-the-box action and you've got a startling spark of chemistry
There's almost always a subplot including supporting characters…and you actually care about them! Who knew it was possible? I typically find myself sort of spacing out when it comes to the subplots, especially if they're not immediately relevant to the main characters.  In Stuart's stories, however, the subplots weave expertly into the main story.  And it's wonderful
She's a talented writer – Anne Stuart is a master, a winner of Romance Writers of America's prestigious Lifetime Achievement Award.  She's got 35 years of experience in the romance genre.  Woman knows her bid'ness and it shows.
I'm currently reading Prince of Swords, and I am very much enjoying it.  After visiting her website I saw she has a new Rohan book coming out in July…and I'm THRILLED.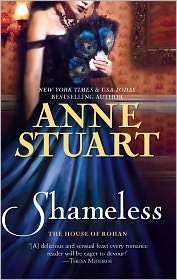 You can check out the rest of her books here.
I'd give Anne Stuart this overall rating:
Rating: 4.5/5
Romance: 4/5Â Â Â Â Â Â Â Â Â Â Â Â Â Â Â Â Â Â Â  Raunch: 4.5/5
If you're looking for a guaranteed good read with a touch of darkness, and decent romance AND raunch, you can't go wrong with Anne Stuart.  She also recently began writing under the pseudonym  "Kristina Douglas," who recently published Raziel.  I loved that book, too.